Santa Cruz County Market Update – November 2021
Santa Cruz Home Prices Ending the Year in Record Territory: A Deeper Dive into the Data.
A Quick Review of November Real Estate Sales in Santa Cruz County.
Due to distractions and a relative lack of listing and buying activity around the holidays, November is usually a slower month for real estate sales in Santa Cruz County. And yet, almost all the measurable data gathered from last month indicates that seasonal norms we've been used to in our marketplace may be missing in action in the new post-pandemic environment.
Late into 2021, Prices are continuing to ratchet up year-over-year close to the all-time highs the year has already established, while days on market and available inventory continue to drop to new, historic lows. The only category that softened last month was the overall number of sales transactions, a factor that was undoubtedly influenced by the low number of active listings that were available for buyers to choose from (one of the catch 22s of a low inventory marketplace.)
The Median Price for SFRs in Santa Cruz saw a dramatic year-over-year increase of more than 20%, going from $1,040,000 in November 2020 to a near record high of $1,260,000 in November  2021.
The number of closed SFR transactions remained more or less even with 162 sales in 2021 compared to 166 in November of 2020.
The average number of days on market dropped from 23 days in November of 2020 to an even tighter 19 days in 2021, while the average SFR sold for 104% of it's list price compared to 103% in 2020 – both indications that competitive-offers and overbids continue to be mainstays of the current marketplace.
Meanwhile, the already low inventory level fell to historic new lows ending November with a scant 1.1 months worth of supply heading down the homestretch towards 2022. That was well below the number of active listings for the previous December. Currently there are less than 100 active SFR listings in Santa Cruz County.
Single Family Residences (SFR)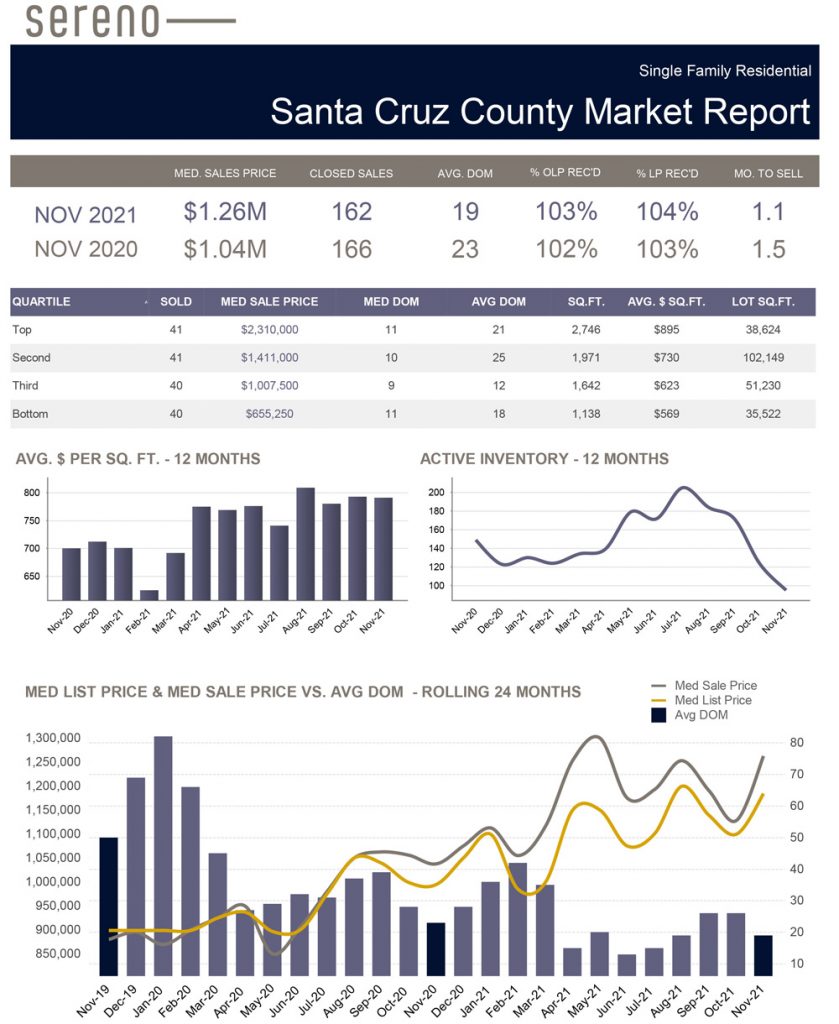 Condos/Townhomes